HH07: Final Claim Types – Revenue Codes Copy
Revenue Codes

Priority (Type) of Admission or Visit Codes (FL 14)
1  Emergency
2  Urgent
3  Elective
4  Newborn
5  Trauma
9  Information Not Available
Patient Status Codes (FL 17)
NURSING G-CODES
PRE-BILLING AUDIT FORM
Also for PBA form:
Ensure Occurrence Code 50 & Final Validation Report Assessment Dates Match
Plan of care/re-certification is signed and dated
Physicians orders signed and dated that aren't included in the plan of care
Appropriate, legible signatures
Initial episode of care certification is in the QIES and plan of care regardless of billed dates of service
Subsequent episodes
OASIS assessment has been submitted, locked and accepted
A copy of the OASIS assessment is included in the documents submitted to support the HIPPS billed
Verify the RAP has been paid and not canceled, and re-verify eligibility if necessary
Complete documentation includes:
Accurate patient status
Medical necessity related information
Verified matched diagnosis
Individual visit support for each billed visit
Therapy assessments-verify accurate therapy codes
Necessary supplemental orders
Face-to-Face encounter Medicare requires a Face-to-Face encounter with an approved practitioner no more than 90 days prior to the home health initial episode of care or within 30 days after the first episode
Include documentation of clinical findings with legible signatures and dates
Skilled services are supported through clinical findings
Homebound status documentation
Face-to-Face document for dates of service under review
Order Management
What is your frequency for sending orders out?

–As frequently as possible but no less than twice a week

How are orders sent out and received?

–mail, fax, courier, email, portal

What is current average return time?

–Varies on method of delivery and receipt
–Goal should be less than 7 days

What education needs to take place with physicians?
Who verifies the physician signed and dated the orders?
How do you track orders being returned?

–Utilize EMR to track orders not separate spreadsheets

What are agencies timelines for following up on outstanding orders?
Does agency have a designated person for follow up?
Order Management Best Practice
Utilizing EMR/third party software track date sent–this is counted as day 1
Day 7–orders not back are resent
Day 14–orders not back are resent with call to physician office to confirm receipt and follow up status
Day 21–orders not back – notify clinical manager who places follow up call to physician office
Day 28–orders not back–Clinical Leader contacts physician office
Other things to consider:

  –Each step is documented in EMR
  –During monthly staff meetings discuss with clinical managers, case   manager, intake and other staff on any trends with outstanding   orders
Get the Patient involved!!!!!!!!!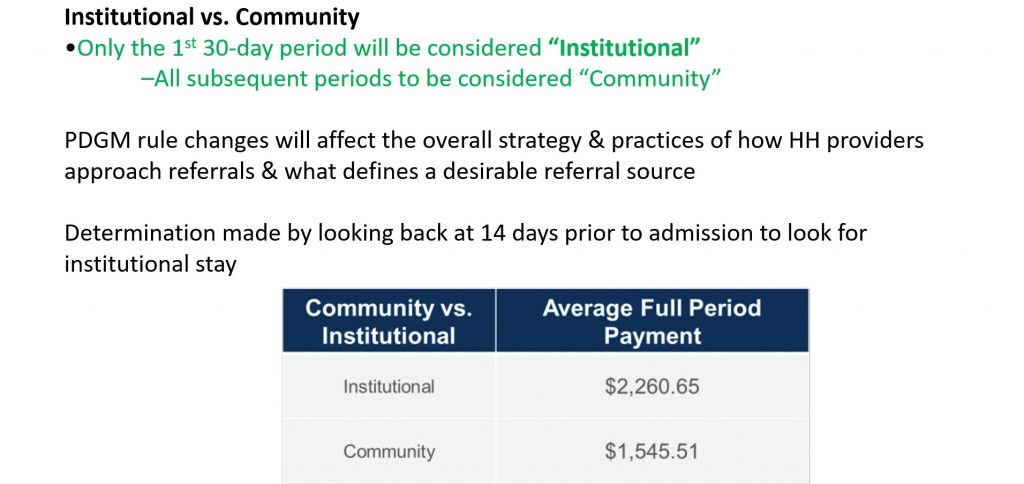 Things to make you go……………Hmmmmmmm?
When PDGM begins, billers will have to do a lot of reconciling of payments to determine what the agency/OASIS/software projected reimbursement to be compared to the actual payment from CMS from our claim and how it differs
Regarding the admission source, if the RAP is submitted before the PAC stay claim is submitted, CMS will not adjust the RAP payment. However, CMS says the correct payment will be done when the final claim is submitted and paid.
CMS systems will go back a year to adjust claims for admission source.
ED & observational stays are community not institutional
If you add the occurrence code to show institutional stay on your final claim, prepare for it to go into medical review to show documentation.
You would need to use the occurrence code if VA stay was done. Also, any non-Medicare stay was done
PAC – Post Acute Care consist of IPF, IRF, SNF, & LTCH
Diagnosis changes should be reflected on your claim & the case mix weight/reimbursement could change accordingly. However, the HHA clinical documentation would also reflect these changes & any communication/coordination with the certifying physician would also be documented
More assessments??????? Or DCs??????? Hospital holds vs. DCs